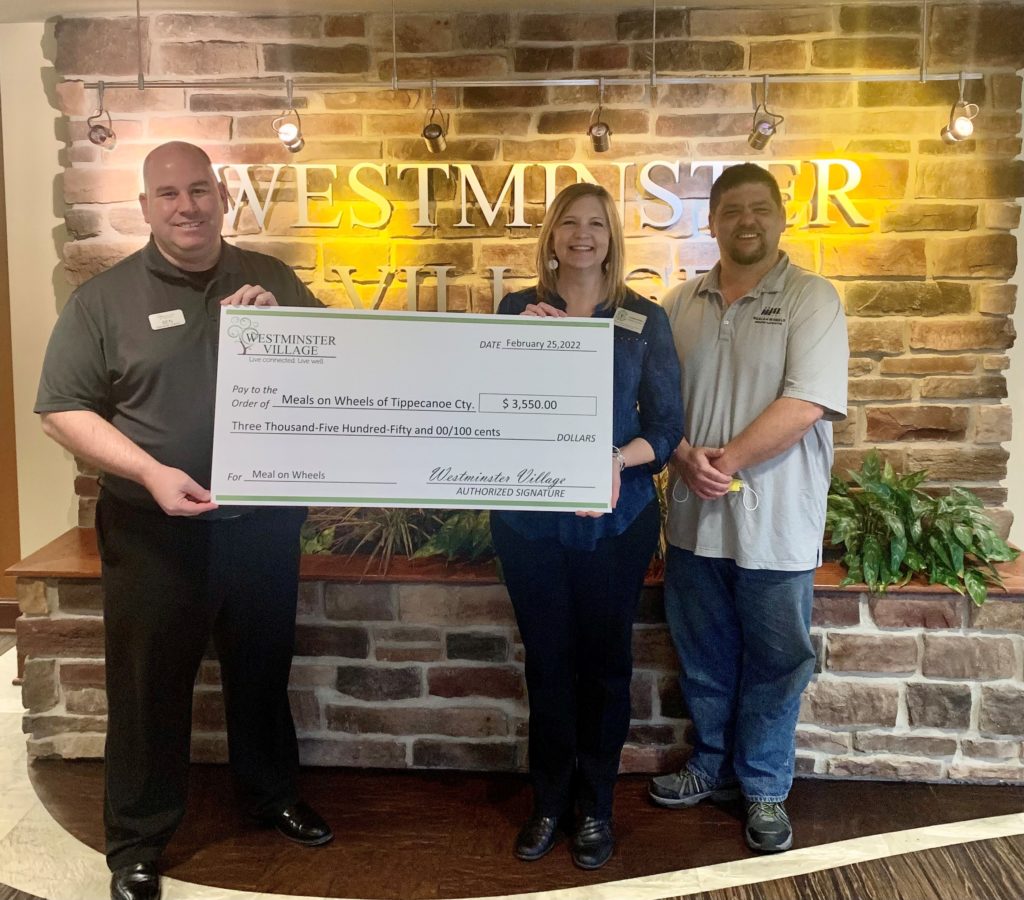 Event to Benefit Meals on Wheels Greater Lafayette
Westminster Village, a life plan community in West Lafayette, invited the community to pick up a gourmet dinner prepared by their Executive Chef, Sean Ford and his team during a drive-thru event on Thursday, February 10th, where the proceeds were donated to Meals on Wheels of Greater Lafayette. They were able to raise $550 more this year than last for a total donated of $3,550.
After presenting Laurie Ernst, MOW Executive Director and Wayne Howe, MOW Program Coordinator and the recipient of the Westminster/WLFI Hometown Hero award this past year with the 'giant' check, Wayne shared, "The Valentine's Day Dinner that Westminster Village puts on for us each year has been a huge benefit to our program. For example, this year's proceeds are enough to provide 645 meals to low income and food insecure consumers throughout Tippecanoe County. We certainly appreciate the efforts of Westminster Village in our fight to end senior hunger and social isolation in our community!"
Westminster Village began hosting drive-thru fundraiser events serving dinners and donating all the proceeds to a local charity in response to the COVID Pandemic. The efforts were so successful that they determined to continue hosting three annually: The Valentine's Day Dinner in February for Meals on Wheels, Soup Day in November for Lafayette Urban Ministries and a Father's Day BBQ for nominated charities and causes.
"We're so grateful to be able to host these drive-thru fundraising events (this is one of three hosted yearly). The entire team at the Village comes together to serve the community and the community shows up to support the event to serve others in need. It is wonderfully reciprocal!" stated Candace Swick, Westminster Village Sales & Marketing Director.
About Meals on Wheels Greater Lafayette
Meals on Wheels Greater Lafayette serves more than 250 clients across Tippecanoe County. Their meals are made by Franciscan Health, and last year they delivered over 50,000 meals. Led by Executive Director of Tippecanoe County Council on Aging, Laurie Earnst, Meals on Wheels has experienced significant growth over the last few years.