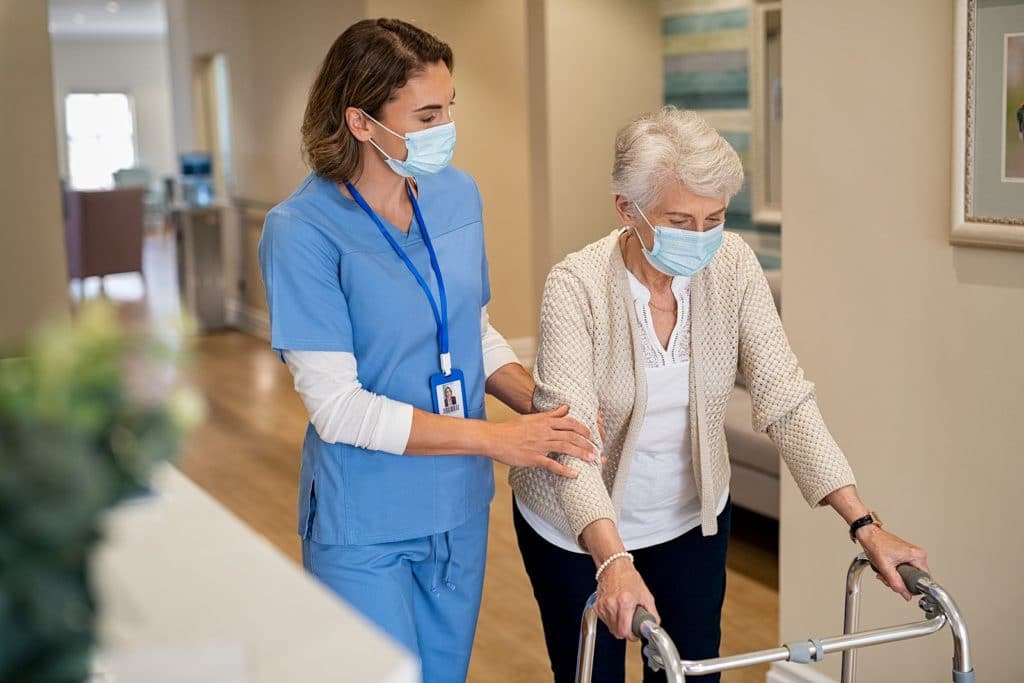 At Westminster Village senior living community, we make the health and wellness of our residents and staff our absolute top priority. That's why we're proud to announce the implementation of EverSafe 360°.
EverSafe 360° is an innovative new program created by LCS®, a company dedicated to improving the quality of life for seniors. It's a multi-layer system that will set a new standard for cleanliness, sanitary conditions, and other steps that focus on the overall well-being of senior living West Lafayette residents.
The specific components of EverSafe 360° are wide-ranging and designed to give an independent living community the highest possible level of safety and quality of care, and the peace of mind that comes with it.
EverSafe 360° consists of several components using science-based practices.
As part of the EverSafe 360° process, an air purification system is put in place that uses ionization technology. Contaminants and pollutants are removed from the filtration system by adding an electrical charge to the air. This thorough and harmless process draws contaminants and pollutants from the air, as well as bacteria and airborne viruses.
Another important aspect of the EverSafe 360° process is strict sanitizing and disinfecting protocols to keep all surfaces germ-free. Deep cleaning of resident spaces and common areas occurs on an ongoing basis to stay ahead of the potential spread of any contaminants that could cause illness.
And EverSafe 360° isn't just about clean air and surfaces creating a sanitized environment in a senior living community. The LCS Medical Advisory Board has been assembled, consisting of top-level physicians who specialize in geriatric medicine, epidemiology, infectious disease, industrial hygiene and mental health. This interdisciplinary team of experts will be in constant contact with agencies that keep track of outbreaks and medical issues that affect seniors.
These experts continually identify world-wide health concerns and the strengths and weaknesses that exist in senior living communities to determine the best course of action. They're then able to provide immediate, real-time assessments and protocols to the independent living communities taking advantage of this state-of-the-art new system.
Telemedicine technology will be readily available, not only for any new health concerns across the U.S., but also to provide medical and wellness virtual visits for any type of care. This will greatly improve the speed and efficiency of response to medical concerns of our senior resident, and will allow them to receive medical care safely and promptly during a pandemic.
LCS is even evaluating the design and layout of indoor spaces that takes into account concepts like social distancing, while also understanding the importance of encouraging friendships and maximizing the ease of socializing in comfort and safety.
EverSafe 360° goes beyond even the physical health and safety of senior living community residents. The program will also put in place protocols for the mental and emotional health of seniors during times of difficulty or uncertainty.
One of the most exciting and innovative concepts being implemented is having a system put in place that makes LCS able to immediately act in emergencies such as any future pandemics, natural disasters, or other sudden crisis events that could otherwise threaten senior safety. A network of warehouses across the country will store emergency supplies and equipment that can be accessed and deployed on short notice. Sanitization products, personal protective equipment, generators, satellite radios, and any other equipment needed to maintain efficient functioning of a senior living community will be readily available and immediately accessible.
It's clear that the COVID-19 pandemic led to a widespread outcry for change in the processes put in place within independent senior living communities. LCS has responded with EverSafe 360°, a total overhaul of the concept of senior safety that will reimagine how senior living community residents and staff members live and work together, and will redefine the future of senior living.
If you have questions about EverSafe 360°, or about any of the wonderful services and amenities or health services available at Westminster Village, a hybrid living community, don't hesitate to contact us.