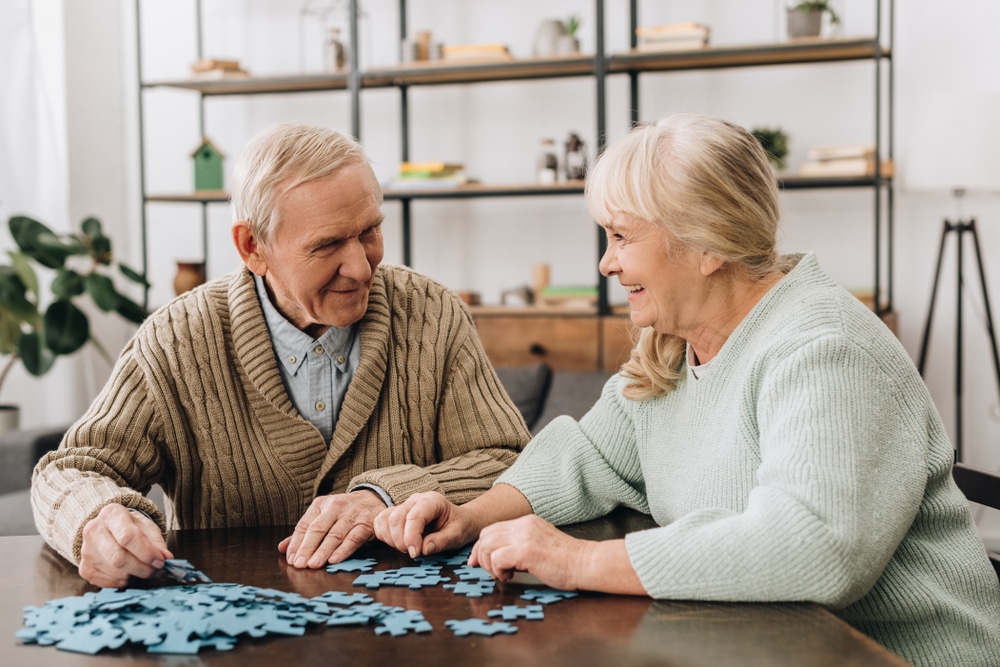 Like spinach, physical activity and proper dental hygiene, brain exercises are good for you. Cognitively stimulating activities can improve memory, make you feel happier and healthier, reduce stress and increase social interaction. Plus, challenging your mind through engaging activities is fun! Here are just a few ways to exercise your brain:
Learn Something New
Research shows that prolonged engagement in unfamiliar, cognitively demanding activities has a positive effect on memory function in older adults. In one study, participants who spent 15 hours a week learning digital photography and quilting had significant increases in episodic memory, which is the ability to recall specific episodes from their personal past. So, what do you want to learn? A new language? How to play a musical instrument? How to bake bread? Follow your curiosity and see where it leads.
Get Crafty…or Artsy
Using your hands to create something tactile — a knitted sweater, a model airplane — taps into your procedural memory, which is the part of your mind that can understand, remember and perform a sequence of actions. Research links engaging in craft projects to a decreased risk of mild cognitive impairment. Another study demonstrated that adults over the age of 85 who were active in sewing, woodworking, quilting, drawing, ceramics, sculpting, or painting were 73% less likely to develop mild cognitive impairment.
Lose Yourself in a Good Book
"Read, read, read, my unlearned reader! Read," says Tristram Shandy in Laurence Sterne's masterpiece of the same name. Good advice, as it turns out. Studies suggest that frequent reading can prevent cognitive decline for older adults. So join a book club, go to the library, or sign up to audit a literature class at a local college.
Get It in Writing
Writing — whether you're journaling, writing a letter, your memoir or a novel — is linked to improved cognitive function, memory and self-esteem. Get yourself a fresh notebook or open a blank document on your computer and let the words flow. Need some direction? Write your autobiography based on the cars you've owned, letting the memory of formerly-owned vehicles spark additional stories. Or write yourself into your favorite book, movie or fairy tale — who would you be and how would you interact with the other characters and influence the plot?
Put on Your Dancing Shoes
A 2003 study published in the New England Journal of Medicine found that older adults who participate in dance as a leisure activity had a lowered risk of dementia. That may be due in part to the fact that whether you're square dancing, line dancing or waltzing, you're combining physical activity, mental focus and social interaction, all of which boost brain health.
Try Chair Yoga
Chair yoga is a gentle form of yoga that can be done while sitting in a chair or using a chair for balance and support. It can be more accessible than traditional yoga, which requires sitting on the floor, but it offers similar benefits, including improvements in cognitive functions like attention, memory, processing speed and executive function.
Do Puzzles Daily
Word and number puzzles — such as crossword puzzles, Wordle and Sudoku — have a protective effect on cognitive health. Researchers find that people who frequently do word and number puzzles perform better on tests of their attention, reasoning and memory. In fact, word puzzle enthusiasts were found to have the brain function of someone 10 years younger.
Break out the Board Games and Cards
If you're like most people, you have a dusty stack of board games stored somewhere in your house. It may be time to dust off your chess set and backgammon board, find an opponent and start playing. A study suggests that seniors who play board games have less cognitive decline and lower rates of depression.
And don't forget that pack of cards in the cupboard. A University of Wisconsin-Madison study shows that people who frequently participate in cognitive activities like card games have a higher brain volume than people who don't play card games regularly.
Put Together a Jigsaw Puzzle
Jigsaw puzzles can be addicting — partly because every puzzle piece you successfully fit into place releases dopamine, one of the "happy hormones." But it's also good for cognitive health, supporting your visual-spatial cognitive abilities.
Keep Your Mind Sharp at Westminster Village
The human mind craves stimulation and, at Westminster Village, our emphasis on whole-person wellness offers an abundance of ways to exercise your brain. With arts and crafts studios, a woodworking shop, educational seminars, tai chi classes, and access to Purdue University classes, you — and your brain — can flourish. Contact us to find out more or to schedule a tour.