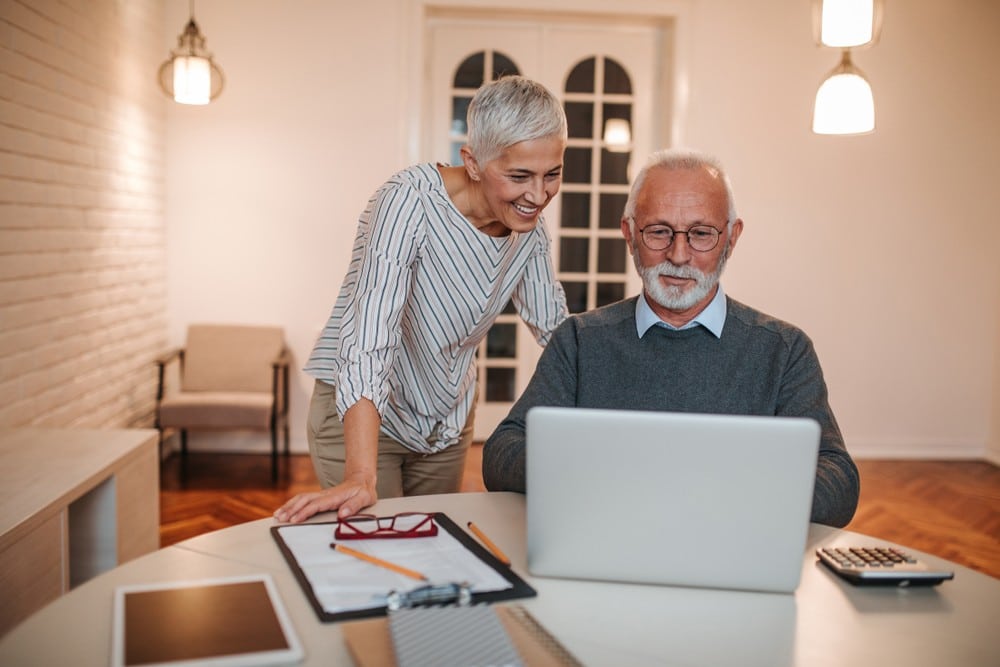 If you're considering making the transition into a retirement community, an important first step is to get a clear picture of what that means for your budget. How much does senior living cost?
The answer depends on a variety of factors — location, amenities, services, and the type of senior living community you choose. If you choose a Life Plan Community (sometimes called a CCRC or Continuing Care Retirement Community), you'll most likely pay an entrance fee in addition to a monthly service fee. Although you may balk at the idea of adding an entrance fee on top of the monthly cost of senior living, the advantages of a Life Plan Community make it a sound choice.

Here are some tips to help you budget for a Life Plan Community.
Evaluate Your Current Expenses
A good first step is to track your current monthly expenses. These may include the cost of groceries, gas, utilities, rent or mortgage payment, taxes, lawn or snow removal services, and personal care like haircuts. Include the fun stuff, too, such as dining out, travel, or going to the movies.
If you own your home, also include the cost of inevitable home repairs. Tree removal or a new HVAC system can add considerably to your expenses. Estimate the cost and divide it into a monthly average payment to understand how it might affect your current expenses. Remember: Even if you no longer have a mortgage, you still have to pay to maintain your home… and you still have to pay taxes and insurance.
Compare Monthly Costs of Living
Once you've determined how much you typically pay per month, you can see how that compares to the monthly cost of living in a retirement community. If you have a Life Plan Community in mind, find out how their fee structure works and what is included in their monthly service fee. As you compare the list of your current expenses with the monthly cost of the retirement community, notice which of your current expenses are included in the monthly service fee. Often home maintenance, lawn care, housekeeping and a meal plan are included in the monthly service package. You may find that most — perhaps almost all — of what you pay for on a monthly basis now will be covered by the monthly service fee.
Evaluate Your Monthly Income
Once you know how much a Life Plan Community will cost you per month, you can find out how that amount fits in with your monthly income in retirement. Tally up the amount of money you have coming in from personal funds like savings, Social Security benefits, pension, 401(k), IRA or an annuity. Long-term care insurance can't be applied to the cost of independent living, but it may help cover the cost of assisted living, should you need it. Check your policy to be certain.
Plan Ahead
It's wise to factor price increases into your budget calculations. Not only can rising prices affect the cost of senior living over time, but if the level of care you need changes, your expenses may increase, depending on the type of retirement community you've chosen.
Understand the Life Plan Community Advantage
Life Plan Communities such as Westminster Village help you safeguard against mounting health care costs. A one-time entrance fee gives access to higher levels of care within the same community. And should you outlive your financial resources, Westminster Village is unique in providing a financial safety net: The Westminster Foundation will continue to pay your monthly service fees for you.
Budget for the Life Plan Community Entrance Fee
If the lump sum entrance fee required to move into a Life Plan Community seems like an insurmountable obstacle, you might be pleasantly surprised. Most adults aged 55 and older own their own homes. If you're one of them, you're sleeping in one of your largest assets. Selling a home is one of the most common ways seniors who are transitioning to a Life Plan Community pay the entrance fee. A financial planner can help you determine what additional assets are available for both the entrance fee and the monthly service expenses.
Westminster Village Makes It Easier to Budget
At Westminster Village, we know the decision to move into a retirement community is a big deal. We want to make sure you have the tools and financial options that can help make it easier. Once you've gotten a clear picture of your budget, try our handy calculator. Our MoneyGaugeTM calculator can help you determine which of our two entrance fee plans is the best fit for you:
The 80% Refundable plan: This plan has the highest entrance fee, but 80% is returned to you or your estate when you leave the community.
The Traditional plan: This plan has the lowest entrance fee and offers a refund that decreases over a period of four years.
The Right Fit for Your Retirement Years
As a Life Plan Community in West Lafayette, IN with entrance fee options to fit your budget, Westminster Village is a sound financial choice. But we're also more than that. We're a vibrant retirement community with a state-of-the-art fitness center, fine art studios with full-time programming, restaurant-style and buffet-style dining options, a cozy full-service library, and access to lifelong learning through visiting lecturers, residents discussion groups, events and nearby Purdue University classes. And you can't beat our location. West Lafayette, Indiana, is one of the safest, healthiest cities in the U.S., with scenic parks, restaurants, art galleries and shops. Contact us to find out more.