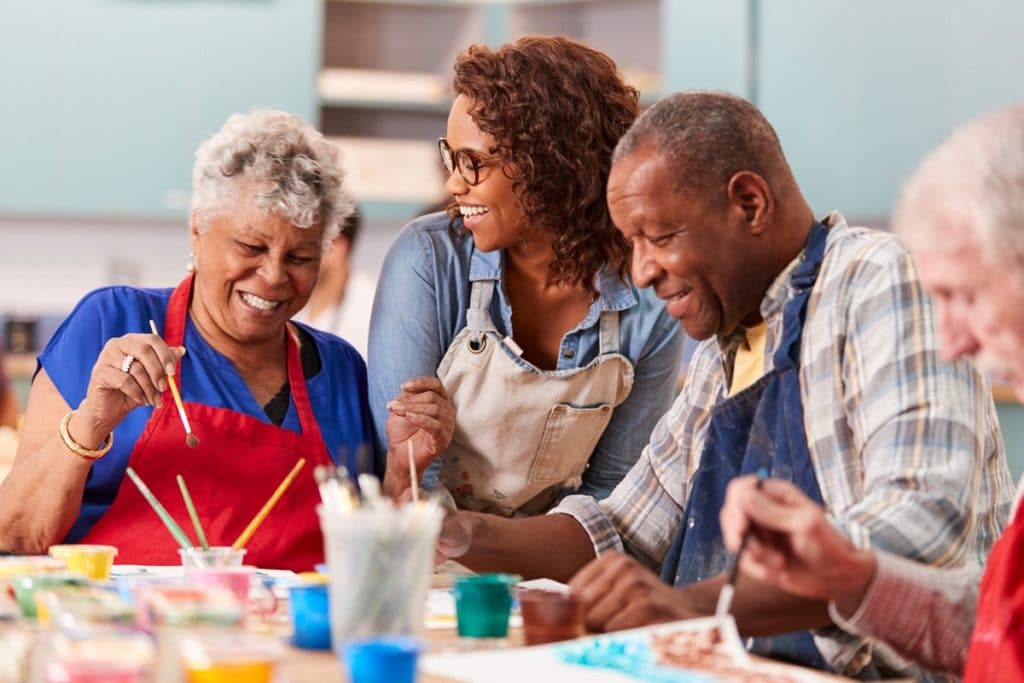 Most seniors would prefer to stay in their home for as long as possible. But according to the U.S. Department of Health and Human Services, 70% of seniors 65 and over will need some form of long-term care in their lifetimes. That's why many seniors have found moving to an independent living community lets them get more out of today, while putting a smart and practical plan in place for the future.
Why You Should Consider Independent Living
Some seniors discover homeownership keeps them from getting more out of life. As you consider your options, here are some things to think about.
Your current home:
How hard is it to keep up with home maintenance, including your yard?
Do you have rooms in your house you rarely use?
How easy is it to get to your house? Do you have stairs? Live on a hill? Have to deal with snow in the winter?
Your social connections:
How far away do your friends and family live and how often do you see them?
How often do you leave the house?
How many of your current neighbors do you know?
Your mobility:
Do you have to drive to attend social events, visit friends and shop?
How comfortable are you with driving?
Is there public transportation in your area and do/would you use it?
How difficult is it for you to visit your doctor?
Your health:
How is your current health or the health of your spouse?
What would you do in the event of a health emergency?
Can you manage the activities of daily living like housekeeping, showering, cooking, eating and taking your medications?
Myth vs. Fact about Independent Living
Until you experience a retirement community, it's hard to know what their lifestyle is actually like. And it's easy to fall back on outdated stereotypes and misconceptions. To help you make a more informed decision, here are three common myths about independent living and the facts.
Myth 1: I'll have to give up my independence.
Fact: You'll have your own independent living apartment while the community will handle all the maintenance and upkeep, giving you more time to follow your interests. Plus, communities offer a variety of services and amenities to help you maintain your independence.
Myth 2: There's no one around to help during an emergency.
Fact: Independent living communities usually have 24-hour staff and security who can quickly and easily provide help if you ever need it.
Myth 3: I'll have to give up my hobbies and interests.
Fact: Most independent living communities offer a wide range of activities and events — from health and wellness programs to gardening, book clubs, cards, arts and crafts, and adult education classes — so they're sure to have something that appeals to you. In fact, many residents find they're more active and social after moving to a retirement community.
Adjusting to Independent Living
Making a big move can be difficult, and it takes some time to adjust to your new surroundings. Of course, moving to a new place with new friends and activities can also be the start of an exciting adventure. Here are six suggestions to help you get settled in more easily:
Make your new home feel like home. Independent living communities offer a variety of floor plans. For example, we offer ranch-style homes, apartment homes and hybrid homes at Westminster. Once you find an option that fits your lifestyle, have the walls painted and hang familiar pictures, and make sure you have space for your most important possessions.
Check the calendar. Independent living communities — like Westminster Village — have activity calendars full of social events, outings, clubs and committees. Go through the calendar and commit to trying one activity per week. Who knows? Trying something new might ignite a new passion.
Establish a routine. After you find some activities you enjoy, make it a priority to attend regularly. Committing to a few clubs or events will help you get to know everyone better.
Meet your neighbors. Every resident has been in your shoes. They've all been the new kid on the block. This common experience gives you a great first topic of discussion. Soon, your new neighbors could feel like lifelong friends.
Invite friends and family over. If you're too nervous to try something new on your own, invite a family member or trusted friend to join you for dinner or an event. Chances are they'll want to see where you live.
Go slow. You may discover there's so much to do at your new community it's hard to take it all in. One good idea is to establish daily, weekly and monthly goals to keep yourself focused. But give yourself the flexibility to adjust up or down to your comfort level. Small but steady steps will add up over time and make you feel at home in no time.
Live Connected. Live Well.
Independent senior living at Westminster Village in West Lafayette lets you savor each moment, free from daily worries and chores. Take a pottery class. Laugh with friends in the Village Pub. Volunteer. Explore downtown. Delight in the everyday, knowing you've planned for the future. For more information about our Life Plan community, give us a call today.