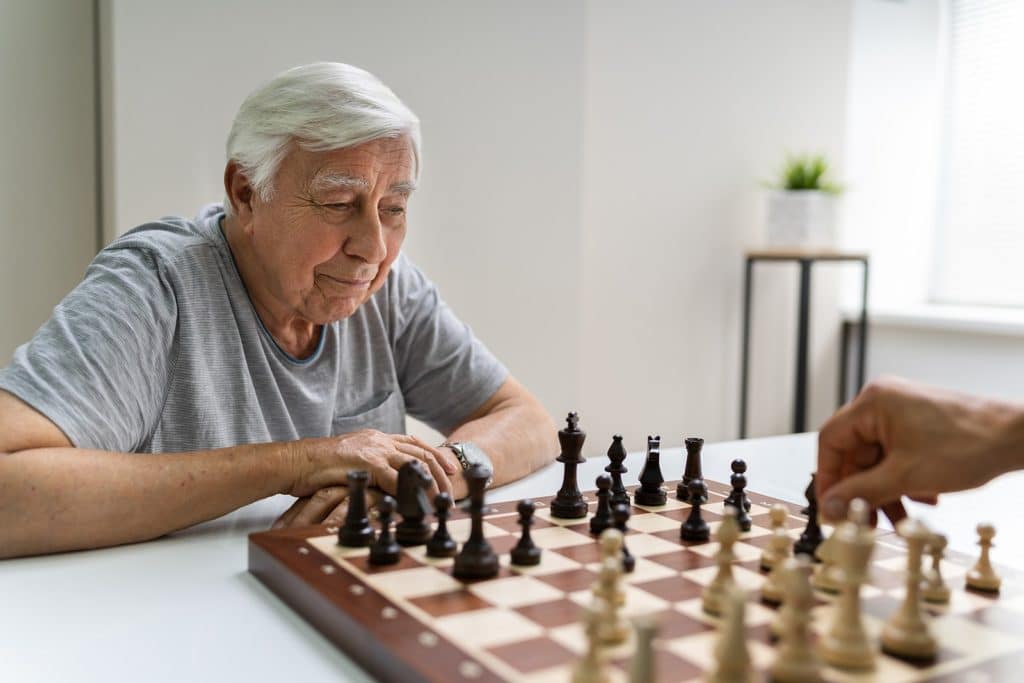 Surprising ways independent living communities support brain health.
Did you know that one of the ways to delay memory loss is simply to use your brain? That's why brain exercises are so important for seniors. In fact, if you look at the four main ingredients to maintaining brain health in aging adults as presented by the Alzheimer's Association, every one of the four ingredients can be found at an independent living community like Westminster Village.  
According to Angela Geiger, chief strategy officer with the Alzheimer's Association, "The research on cognitive decline is still evolving. But certain healthy behaviors known to combat cancer, cardiovascular disease and diabetes may also reduce the risk of cognitive decline."
Four Key Ingredients to a Healthy Brain
1. Eat Right
Eating a variety of vitamin-rich and antioxidant-rich foods is good for your body and your brain. The dining options at most independent living communities have evolved to incorporate delicious, healthy meal options that also accommodate special diets.
2. Exercise Your Body
Working out does more than work up a sweat and build your muscles. It also increases blood flow to your brain, which can reduce the risk of Alzheimer's disease. Your choice of workout doesn't have to be strenuous. Walking, biking, swimming, yoga, and even gardening are great options to stay physically and mentally fit.
3. Stay Social
Seniors who remain engaged in regular social activities may benefit from better brain health. This is another benefit to independent living communities. Their calendars are packed with social events that keep seniors engaged and active.
4. Keep Your Mind Sharp
The more you exercise your brain, the more likely you are to help build new connections and cells within your brain, which can protect you from mental decline.
The Importance of Brain Exercises for Seniors
Research by the Journal of the American Geriatrics Society found that brain exercises helped seniors reduce the loss of reasoning skills and processing speed over the course of 10 years as part of the largest study to date on cognitive training.
"What we found was pretty astounding," said George Rebok, an expert on aging and a professor at Johns Hopkins University in Baltimore. "Ten years after the training, there was evidence the effects were durable for the reasoning and the speed training."
Brain exercises for seniors don't have to be difficult or even elaborate. Here are a few quick examples of activities that can help you stay sharp:
Games
Trivia games can help you learn and remember new facts. Puzzles and board games help stretch your mental muscles and stimulate brain function. And numbers games like Sudoku make you look for numeric patterns while keeping your problem-solving skills sharp.
Check out these free online resources for more fun brain exercises for seniors:
• https://www.braingle.com/
• https://aarp.brainhq.com/?v4=true&fr=y
• http://www.jigzone.com/
Arts and Crafts
Hobbies like knitting, needlepoint, woodworking, and painting are great for ways to delay memory loss for aging adults. Not only do they get your creative juices flowing, but they also help with fine motor skills and hand-eye coordination.
Socializing
That's right. The simple act of having an engaging conversation and socializing with others is a helpful way for seniors to stay mentally active.
Brain Boot Camp
At Westminster Village, we take a "use it or lose it" approach to cognitive exercise with our weekly Brain Boot Camp program. We alternate between different cognitive exercises to engage all areas of your brain … and have a lot of laughs along the way.
Try these simple exercises you can do at home, each under five minutes with no special equipment needed.
• Rhythm Battle
Grab a partner and a pair of wooden spoons, chopsticks or pencils for each of you. One person starts by tapping a simple rhythm. The second tries to repeat it. Alternate as the leader and make your rhythms increasingly complex. You can even play this one on a Zoom call.
• Focused Memory Meditation
Reach back into your past and try to recall as many details as you can. Be sure you select a memory that's fun, not stressful! For example, try to recall your walk to school as a 4th grader. Try to visualize the house you would have left in the morning: What color was it? How many steps did you walk down out the front door? Who would you have walked with? What would you have been carrying? What street would you walk on? What would you pass by? Try to recall as much detail as possible about whatever memory you choose. The recall is good for your brain and the happy memory is a great spirit lifter.
Come see how our independent senior living community encourages brain health.
Westminster Village is a Life Plan Community in West Lafayette, IN. teeming with vitality, excitement and innovative ideas for modern senior living. We'd love to answer your questions, show you around our lovely campus, and help you any way we can as you determine the best independent living community for your unique needs.