What is Art Therapy for Seniors?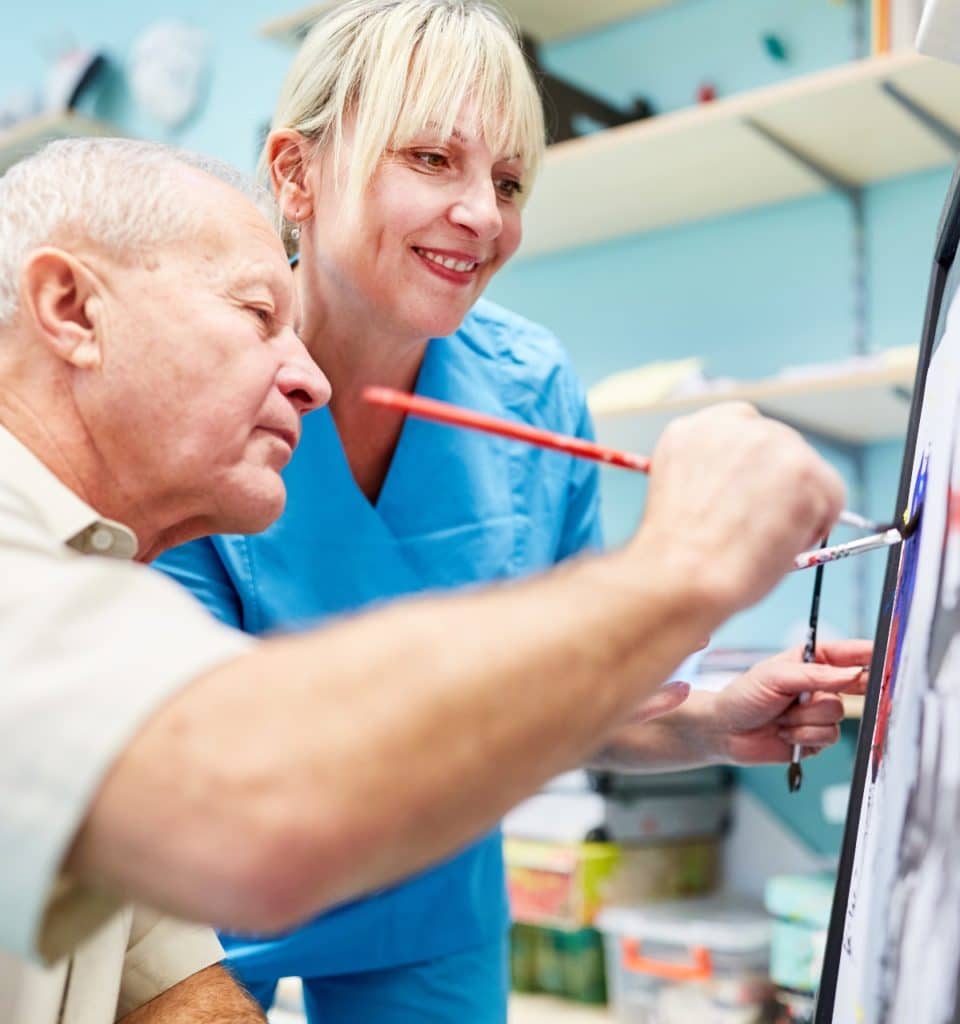 Arts and wellness go together like finger pressing a paint brush to canvas, arranging flowers in a vase, flipping through a playbill at the theater, molding a clay bowl or plucking an instrument's strings. Engaging in the arts — whether purposefully or playfully — boosts emotional, cognitive and physical health, making art therapy for seniors a must-take "prescription" to integrate into everyday life.

When it comes to self-expression, there is no right or wrong. Art is a tool to explore, develop and practice creativity as a means to wellness and can be experienced through movement, sound, vision, writing or drama. The practice of art therapy is a catalyst for positive change. It helps relieve stress and anxiety, boost confidence, promote healthy and calm feelings and enhance physical ability.

While there's no simple explanation for its healing benefits, there have been countless studies on the connection between the arts and individual wellness and how art therapy benefits seniors. One health and retirement study showed older adults who engaged in art forms such as listening to music, singing, playing an instrument or drawing had a lower mortality risk than those who didn't participate in active arts. Other studies indicated seniors involved in creative arts programs reported better health, fewer doctor visits and less medication usage.
Eight dimensions of wellness
Art therapy releases us from inhibitions, allows us to express ourselves in other ways, enjoy the freedom of playing and creating with different mediums and seeing what happens next. Engaging in the arts isn't just fun; it's a vital piece of a healthy mindset.

Art therapy covers several dimensions of wellness: The social wellness opportunities that come with art therapy allow residents to feel more connected to their community, reduce feelings of isolation and help improve their outlook on life. Engaging in the arts is a healthy way to cope with life's challenges to reach a higher level of emotional wellness. Art-focused events and activities, such as learning how to draw, browsing at a museum or attending a play promote intellectual wellness that helps keep your mind healthy and active. Residents can share their specialized knowledge in painting and drawing, music or other art forms — vocational wellness that can benefit other community members. Daily access to wet and dry professional studios provides a sense of environmental wellness — welcoming, comfortable places with the freedom to unleash your inner artist.
​Other benefits of art therapy
A Harvard Medical School neuropsychologist noted that mental and social engagement — through activities such as painting, writing short stories, knitting or flower arranging — can help protect against cognitive decline. The human brain is malleable and learning something new requires our brains to do some work because it's encountering something it hasn't experienced before.
Neurological research shows making art — or even viewing art — causes our brains to reshape, adapt and restructure. Using more efficient brain networks or alternative brain strategies expands the potential to increase our brain reserve capacity.
When it comes to engaging in the arts, there are no limitations. Older adults or seniors with dementia, limited motor skills and strength, or mental and physical challenges related to hearing, vision or cognition can experience the positive effects of art therapy. Barriers are reduced or eliminated through specialized lighting and tools, modified instruction and materials, and other accommodations.
Senior living and creative arts
Westminster Village Life Plan Community allows you to truly live a carefree life by keeping you connected to what matters most and making you feel right at home. Here, you can find inspiration in cutting-edge wellness programming offered in two professional arts and crafts studios, where our motto is "art for all."
A full-time artist and professor designs programs with resident input to ensure art-making is engaging and accessible to anyone who wants to dabble in something positive and purposeful. Hands-on participation explores the crafty side of things with floral arranging, knitting, quilting or papercraft projects, while formal instruction explores ceramics, drawing, cooking, photography or painting.
Whatever the art project or medium, we focus on the experiential creative process and pursuit of wellness and improved quality of life. A sense of community develops among residents through art-making — it provides a balance between comfort and security of the familiar and the excitement of new experiences and connections.
Westminster Village in West Lafayette features a variety of options for nearly every need: independent living, assisted living, memory care, long-term skilled nursing and short-term rehabilitation services. Start living the good life now and explore a world of opportunities found only at Westminster Village — the right mix of hospitality, high-tech convenience and good old-fashioned friendly people.